I have recently had the opportunity to review a cursive writing curriculum from
Memoria Press called
New American Cursive:Penmanship Program Workbook 1. Cursive writing is not often taught in our school systems today and I was eager to teach my own homeschooled children. Though Memoria Press includes this soft-covered, spiral-bound workbook with their first grade classical curriculum, I decided it would be the best fit for my third grader.
New American Cursive is a workbook with fun interactive lessons that are engaging to young children. Some of the letters are somewhat simplified from classic cursive writing, making them easier to write. As they learn each new upper and lower case cursive letter, there is a space for their own unique artwork. My son used this are to draw pictures of the cursive letters going on extraordinary adventures. It worked out to be a great way to capture his interest and provided him with extra practice on his letters!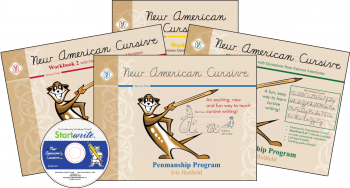 I think this workbook will be a great introduction to cursive for any young child K-3 depending on the child. My third grader has some fine-motor delays/ dyslexic-tendencies and handwriting has always been an area of struggle for him. I know that often children who do struggle with printing can improve when taught cursive. I hope this is the case for him, he did really enjoy using the workbook and mommy enjoyed that it was simple for him to understand what was required of him so he could do the work independently. I also really like the format of this book. the spiral binding is at the top of the book making it equally effective for left and right handed children. This is an aspect often overlooked by publishers and so I really appreciate the forethought that went into New American Cursive.
There is a teaching guide at the beginning of the book which gives several suggestions on how to make this program successful for your children. It also talks about why cursive is important for your children. I didn't know that cursive can improve the neural pathways between the left and right side of the brain! I'll be eager to see how this benefit my strongly left-brained child. The work samples of some of the 6 and 7 year olds that did this program are very impressive, however I know that not all children will be capable of such excellent penmanship so early on and I am happy with the age we are starting at as I feel it's perfect for our situation.
New American Cursive is $22.95, there are several pages you can look at and try out on their website if you would like to see the format they use. There are also additional levels that Memoria Press offers for more advanced cursive practice.
If you would like more information, please go check out Memoria Press' website and the other reviews by Review Crew members (click the link below). Memoria Press also offers lots of other classical curriculum materials on their website, so be sure to check them out as well.
Follow Memoria Press On Social Media
Facebook: https://www.facebook.com/memoriapress
Twitter: https://twitter.com/MemoriaPress
Pinterest: https://www.pinterest.com/memoriapress/
Google+: https://plus.google.com/u/0/+Memoriapress1/posts
Instagram: https://instagram.com/memoriapress/
Click on the link to read more reviews!